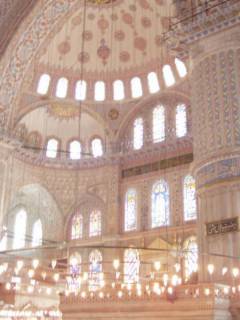 Inside Blue Mosque, Istanbul.

Islamic Istanbul: ARTIFACT OF THE DAY. One question we were often asked while in Istanbul was which was more beautiful, the Blue Mosque or Hagia Sofia. Here you can see the shimmering light filtered by stained glass windows, comparable to any in the West, and the soaring pillars and domes, each surface with ceramic tiles. At the bottom of the picture, electric lights shimmer where candles once were placed in the traditional wired pattern that seems to float.
Built between 1609-1616 for Sultan Ahmet I, the Blue Mosque is directly across from Hagia Sofia, and dazzles the eye with its fine ceramic (called faience wall panels), the blue and green drawing the eye upward and out. Until the 19th Century, according to guidebooks, the pilgrimage to Mecca began here from the Blue Mosque. Visitors are welcomed. We remove our shoes at the door and even in large groups are hushed to silence by the beauty of this sacred space.
Who can answer which is more beautiful? For me, the Blue Mosque seems integrated, one main architectural idea synthesizing prayer, while the colder and older Hagia Sofia (built originally about 330 CE and then rebuilt by Justinian in 533 as the Church of Holy Wisdom. Justinian exclaimed on entering the completed church, "Glory be to God, who has thought me worthy to finish this work! Solomon, I have surpassed thee!"
Hagia Sofia, converted from its Christian roots to an Islamic mosque in 1947 and now a museum, juxtaposes Christian mosaics with Islamic architectural elements -- the mihrab contains a piece of the holy stone from Mecca.
Both are large places of worship, the Blue Mosque can hold 10,000 and Hagia Sofia seems even larger. Walking along the upper floor of Hagia Sofia, we can stand where Justinian's empress Theodosia once stood, looking over the great inner court. If I were a Christian pilgrim, perhaps Hagia Sofia would resonate more clearly. If I were an Islamic pilgrim, I think both places would have a deeply spiritual sense about them. Looking strictly at the unity of the two buildings, the Blue Mosque offers its visitors layers of harmony.
Decide for yourself by visiting the Hagia Sofia at
http://www.wu-wien.ac.at/usr/h01d/h0104031/id130.htm
and the Blue Mosque at
http://www.nashjaffer.net/ist3_blue_mosque.htm
A longer essay on Hagia Sofia during Justinian's time can be read at
http://www.greece.org/Romiosini/constple.html
and another travelogue votes for the Hagia Sofia instead of the Blue Mosque at
http://www.mmtaylor.net/Holiday2000/Diary/story.Turkey.1.html