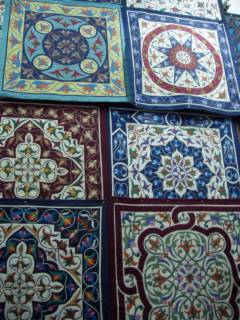 Detail of wall hangings, Street of the Tentmakers, Cairo, Egypt.
Tonight I'm feeling just a little recovered from the awful cold that's going around and getting ready to read a set of papers. First, what are these wall hangings? These hand-sewn applique quilted hangings, roughly 3 x 4 feet, are crafted in small open-air shops along the Street of the Tentmakers in Old Cairo.
Here, in the space of a roughly 8 x 10 workspace/shop, 2 or 3 teenaged boys will sit cross-legged, under the eye of the shop manager, and spend their day stitching traditional Islamic designs backed with canvas. Once the tentmakers along this street served the carvans along the famed Silk Road with colorful tents; today, some shops specialized in larger, brilliantly colored, sheet-sized quilts to decorate weddings, restaurants, or a butcher's shop.
The Street of the Tentmakers is just far enough away from tourist tours to be quiet, yet the workmanship is exquisite. The young men were pleased to have their work praised; I knew from the high unemployment rates that they were also pleased to have a job, for we often met cabdrivers with university degrees. We were able to bring just one small hanging home to treasure.
The traditional Islamic designs carry more meaning than I've been able to decipher. I can see the repetition, the geometric "frame and meander" that is traditional. Almashriq's article says the designs come from the mosaic floors in medieval mosques, where design is not left to chance.
For more historical background and more detailed pictures, see this site:
http://almashriq.hiof.no/egypt/600/670/677/cairo_tentmakers/
For more pictures of a traditional shop, see:
http://www.touregypt.net/featurestories/applique.htm
but now it's truly time to read papers!
A question I've never been able to answer is how do we justify such differences in the standards of living in our world?